The GR21 hiking trail, weathering the forces of nature.
From Le Tréport to Criel-sur-Mer, the GR21 hiking trail offers a whole array of landscapes and varied scenery. From the busy ports of Le Tréport, climb the 365 steps up to the clifftop to enjoy a magnficent panoramic view. After following the cliffs for a short distance, you'll turn inland towards Mesnil-Val, where you'll also discover superb views over the port area. The cliffs of Criel-sur-Mer dominate the sea and the valley from a height of 106 metres. Erosion of the cliffs means the GR21 route sometimes has to be modified, so be sure to follow the waymarkers (white-on-red horizontal stripes).
The coastal path, well worth the effort!
From the esplanade at Mers-les-Bains to Ault, on 7km of waymarked paths, prepare for a fabulous clifftop experience! The breathtaking seascape and the horizon stretching to infinity are a just reward for your efforts. The succession of clifftops, hanging valleys and styles over fences requires a certain degree of physical fitness. You'll cross the Bois de Cise, a natural maritime wood nestlling at the bottom of a hanging valley, to reach Ault, where the cliffs originate.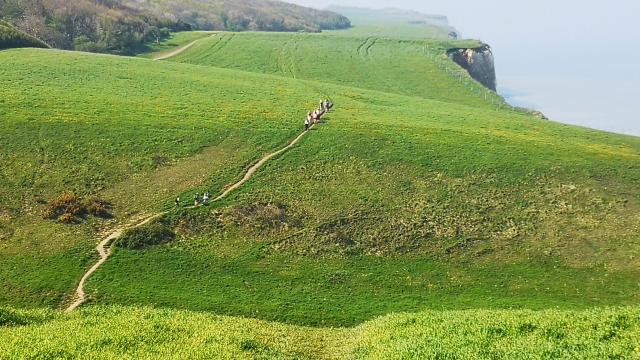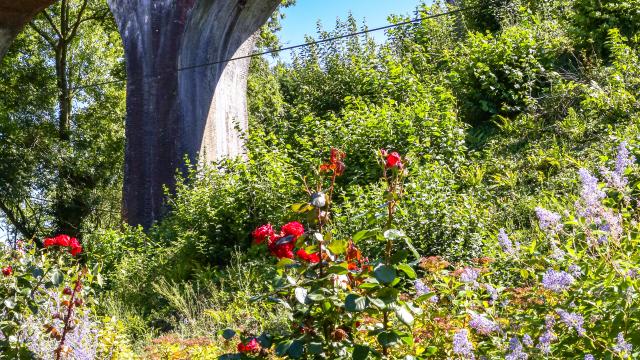 The Chemin Vert du Petit Caux
From the town of Eu, the Petit Caux is a 17km trail that follows a greenway along the old railway line which ran from Eu to Dieppe until 1972. Converted to a hiking trail, it offers a whole wealth of plant and animal life. This itinerary crosses a number of viaducts with exceptional panoramic views. Traces of the railway can still be seen. Sheltered by the foliage, the route can be taken by walkers, horse-riders and mountain-bikers eager to discover nature and history.
Good to know: the entire 17km walk takes nearly 5 hours, but the Chemin Vert du Petit Caux can be discovered in shorter sections by starting/finishing at different points along the route which can be reached via Etalondes, Saint-Rémy-Boscrocourt and Touffreville-sur-Eu.