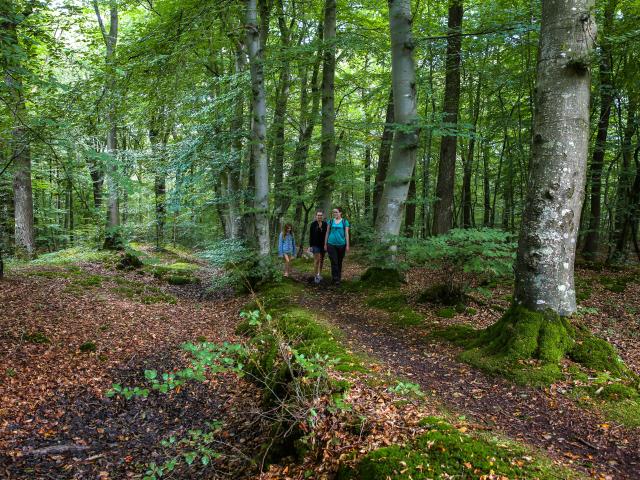 The Eu Forest Experience
The forest is undoubtedly the ultimate place to relax and reenergise! Welcome to the majestic forest of Eu, a vast forest range that stretches between the valleys of the Bresle and Yères rivers. Follow the waymarked trails through the magnificent beech woods and unleash your senses! Inhale all those fragrances of mosses and ferns, listen to the wind in the trees and the song of the birds, admire the woodland scenes and panoramic views of the valley. Like many forests, Eu is dotted with signposts but here they are different; they are made of cast iron, weigh several tonnes and each bear the name of a locality or a reference to the foresters or a member of the Orléans family. Besides its unique signposts, this vast forest has a few special surprises in store for hikers. What's that stone tucked concealed in the woods? They call it the Pierre Bise and legend has it that smoke emanates from this ancient Druidic monument to announce rainfall or a serious incident. Not far from here, a wooden panel catches the eye. It bears the inscription, "Quesne à Leu", which in Picard dialect means "Wolves' Oak". It is said that the last wolves were killed and judgement passed at the foot of this tree. With a circumference of 4.8m, it can now be seen lying on the ground, after it fell in 2008.
What is the Adélaïde stele?
This 12-metre obelisk was erected in 1844 by Louis-Philippe in honour of his sister, Adélaïde. Located between Millebosc and the hamlet of La Tuilerie, the Adélaïde stele is a memorial stone that symbolises brotherly love.