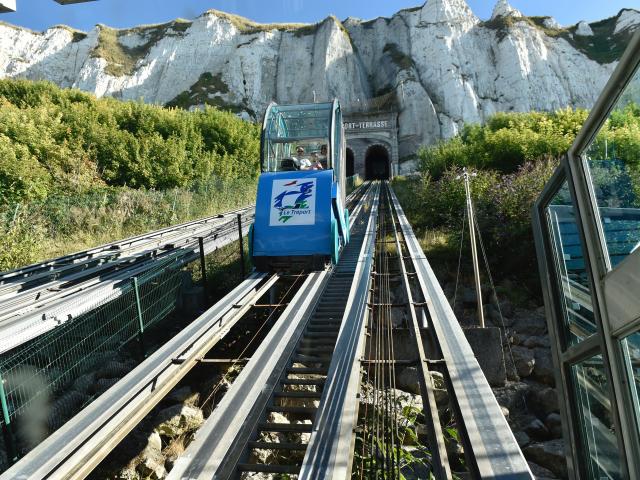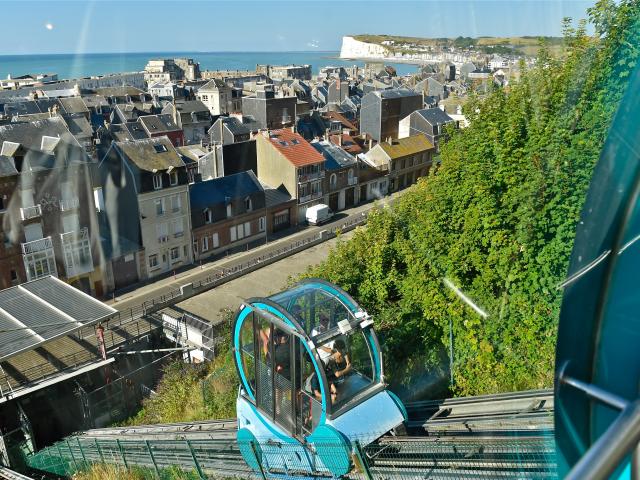 We know you won't regret it! From a height of more than 100 metres, the panoramic view offered by the Cliff Terraces will take your breath away.
The panoramic terrace with its viewpoint indicator and telescope gives you a new angle that allows you to stretch the horizon from Cap d'Ailly to Le Crotoy (at a distance of 40km south and north respectively).
If you're sporty, you can reach the cliffs of Le Tréport via the steps, counting them as you go as nobody seems to be able to agree on their number! Otherwise, you can board one of the tiny wagons of the funicular railway which travel up and down all day long.
This is actually the third funicular railway, which went into service in 2006. The first system , inaugurated in 1908 by the Count and Countess of Eu, consisted of 2 wooden cars that each weighed a tonne and carried up to 48 passengers. It fell into decline after being requisitioned by the Germans during the Second World War. In the 1950s, a second system was installed, a monocable cable car with about a dozen two-seater gondolas that travelled back and forth through both tunnels for twenty years or so, until the operator threw in the towel because of frequent service interruptions due to high winds.
The current funicular railway uses an inclined-lift system. It is free, entirely automated, and operates every day of the year.